Help with searching
Beginning a search
Start by entering some search terms into the search box. IRIS automatically performs an OR search and searches for any words entered. For example, the following
will bring search results including word1 OR word2 OR both.
Refining the search with search filters
Refine your search results with the filters down the left of the screen. For example, you can search for all IRIS content with * and use Research Area filter to refine your search results.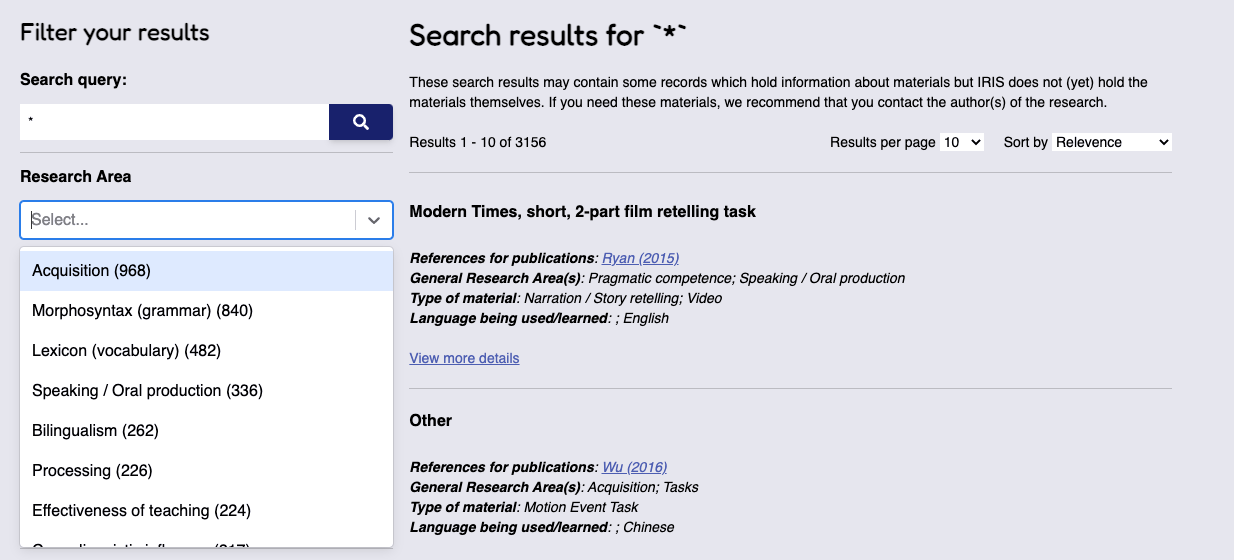 Terms used in the IRIS database
These lists of terms have been defined by the IRIS team to create a systematic labelling system for instruments and second language research. The terms may give you some ideas for your search. Please note, a search will look for any term that you enter across the whole database, so you are not restricted to these terms.


The lists of terms are modified where appropriate, for example when uploaders provide new labels for their instruments. This list is, therefore, 'organic' in response to feedback from users.
Type Of Instrument
Research Area
Linguistic Feature
Data Type
Participant Type
Proficiency of Learners
Domain of use of language being learnt
Funder
Top Level Term (84)
Catalan Government
Academy of Korean Studies
ACTFL Research Priorities Award
Alexander von Humboldt Foundation
American Council on the Teaching of Foreign Languages (ACTFL)
Arts and Humanities Research Council (AHRC)
Australian Research Council
Big Lottery / Wellcome Trust
British Academy
British Association of Applied Linguistics
British Council
British Embassy Madrid
Cambridge English Funded Research Programme (Round Eight, 2017–2018)
Canada Research Chairs Program
Caplan Foundation for Early Childhood
CERCLL
China Scholarship Council
CUNY; RF Government Grant ag. № 14.641.31.0004
DÉPARTEMENT DE L'INSTRUCTION PUBLIQUE, DE LA CULTURE ET DU SPORT (DIP) Geneva, Switzerland
Economic and Social Research Council (ESRC)
Educational Testing Service
EU 7th Framework Programme Marie Curie Initial Training Networks
European Commission
Fondo Nacional de Desarrollo Científico y Tecnólogico from the Ministry of Education of Chile (FONDECYT: 1181533); the Canada Research Chairs program (950-231218)
Fondo Nacional de Desarrollo Científico y Tecnólogico from the Ministry of Education of Chile [1160838]
Fondo National de Desarrollo Científico y Tecnólogico (FONDECYT 11121136)
Fonds du Recherche Société et Culture Action Concertée program
Fonds Wetenschappelijk Onderzoek (FWO)
Free University Berlin
Fulbright
Harvard Initiative for Learning and Teaching (HILT)
Hong Kong Research Grants Council
IMinds
IMinds / imec
Irish Research Council for Humanities and Social Sciences
Irish Research Council for Humanities and Social Sciences
Irish Research Council for Science, Engineering and Technology
Japan Society for Promotion of Science
KU Leuven's Global Minds Doctoral Scholarships provided by VLIR-UOS and the Belgian Development Cooperation
Language Learning
Leverhulme Trust
Lower Saxony Ministry of Education, Germany
Marcus and Amalia Wallenberg Foundation
Ministerio de Economia y Competitividad (Spain)
Ministry for Science and Culture Lower Saxony, Germany
Ministry of Science and Technology, Taiwan, ROC
National Endowment for the Humanities
National Institutes of Health (NIH)
National Research. Development and Innovation Office in Hungary (NKFI)
National Science Centre (NCN, Poland)
National Science Foundation (NSF)
National Social Science Foundation of China
National Social Science Fund of China, National Natural Science Foundation of China and Beijing Federation of Social Science Circles
Netherlands Organisation for Scientific Research (NWO)
Onderwijsontwikkelingsfonds (OOF) KU Leuven
Open Research Area in Europe for the Social Sciences (ORA)
PHC Ulysses (France Ireland)
Quebec Ministry of Education (Fonds Quebecoise de la Recherche sur la Societe et de la Culture
San Diego State University Grants Program
SLCL Research Initiative Grant, UIUC
SNU Foundation (2011)
Social Sciences and Humanities Research Council
Sociological Initiatives Foundation
Spanish Ministry of Economy and Competitiveness
Spanish Ministry of Economy and Competitiveness (FFI2015-66533-P); the Generalitat de Catalunya (2017 SGR _ 971)
Spanish Ministry of Education and Competitiveness
Spencer Foundation
Swedish Research Council
Swiss National Research Foundation
Swiss National Science Foundation
TESOL International Research Foundation
The British Academy
The University of Texas at Austin - Continuing Student Fellowship
TOEFL
Trinity College London
U.S. Department of Education
University of Connecticut Office of Early College Programs
University of Illinois Campus Research Board
University of Wisconsin Graduate School and Center for Latin American, Caribbean and Iberian Studies; Temple University Provost and Faculty Development Offices; Temple University College of Liberal Arts
USF New Researcher Grant
Utilika Foundation
Victoria University of Wellington
Wisconsin Alumni Research Foundation
Other
Search and download
Enter any text you wish into the search box below, such as an author, a type of instrument, a data collection method, a research area, a language, a linguistic feature, etc.
For terms you can search for, see the Search Help page. Multiple terms separated by a space are automatically treated as term1 OR term2 OR ... searches.